Scottish Country Sports Tourism Awards 2023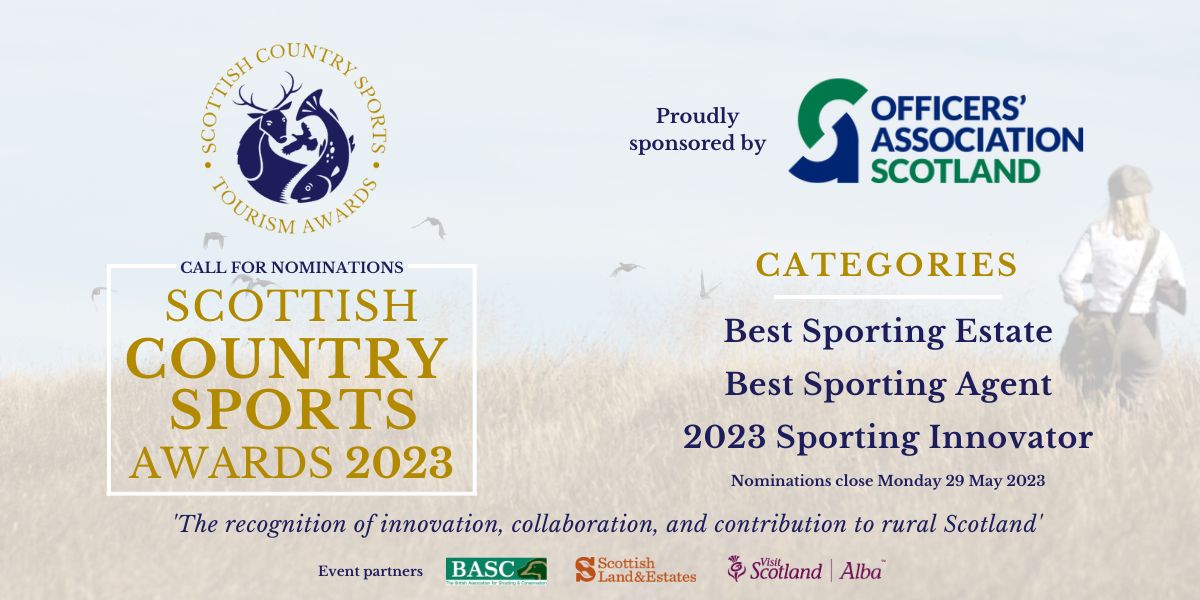 Exceptional Sporting Contribution and Innovation Celebrated at the Scottish Country Sports Awards 2023
Presentation location: Saturday 1st of July on the Scottish Land & Estates stand at The GWCT Scottish Game Fair 2023.
Scotland's best of the best in country sports is being called upon to step into the limelight. The Scottish Country Sports Awards 2023 is casting the net far and wide to recognise and celebrate market-leading establishments and individuals who have significantly contributed to the country sports tourism sector.
Best Sporting Estate 2023
The prestigious Best Sporting Estate 2023 is up for grabs; seeking a Scottish sporting estate that embodies the essence of premium sporting experiences. The winning estate will exemplify land management, collaboration, and guest service excellence. The estate that goes the extra mile in offering exceptional sporting opportunities, investing in top-tier accommodation, promoting biodiversity, engaging with the local community, and delivering unforgettable experiences will be taking this coveted award home.
Best Sporting Agency 2023
Equally anticipated is the award for the Best Sporting Agency 2023, celebrating an agency that has been instrumental in delivering outstanding sporting experiences throughout Scotland. This agency will have a reputation for exceptional customer service, a strong track record in creating memorable experiences, and a commitment to sustainability and local community engagement. In addition, the agency should demonstrate a unique offering that sets them apart in the sporting landscape, reaching out to diverse visitor profiles and contributing significantly to the local economy.
2023's Sporting Innovator
In the spirit of innovation and progress, the 2023's Sporting Innovator Award is ready to commend the trailblazers and game-changers of Scottish country sports tourism. This accolade will recognise a visionary individual or business breaking new ground and spearheading change within the sector, from offering a fresh product or service to engaging an entirely new audience and everything in between.
Nominations are now open for these outstanding awards, and the criteria have been carefully designed to encompass a broad range of positive impacts in the sector.
Whether you are putting your business forward or nominating another deserving candidate, this is a golden opportunity to spotlight the champions of Scottish country sports tourism.
"This is an opportunity to celebrate the best Scottish country sports' says Chloe Forbes, Country Sport Scotland's Project Manager. "We're looking for those exceptional estates, agencies, and innovators who are continually pushing boundaries and setting new standards in the industry. They lead the way in sustainability, community engagement, and creating unforgettable experiences for all who visit."
Let's shine a spotlight on the heroes of Scottish country sports tourism.
These awards are proudly sponsored by Officers Association Scotland, who provide lifelong employment and welfare support to officers and their families through out their transition and beyond. Their support is personalised, practical and impartial. They also offer training resources with networking opportunities and employer events. Connecting with OAS provides employers with access to highly skilled service leavers and veterans across Scotland
Nominations close on Monday 29th of May 2023.