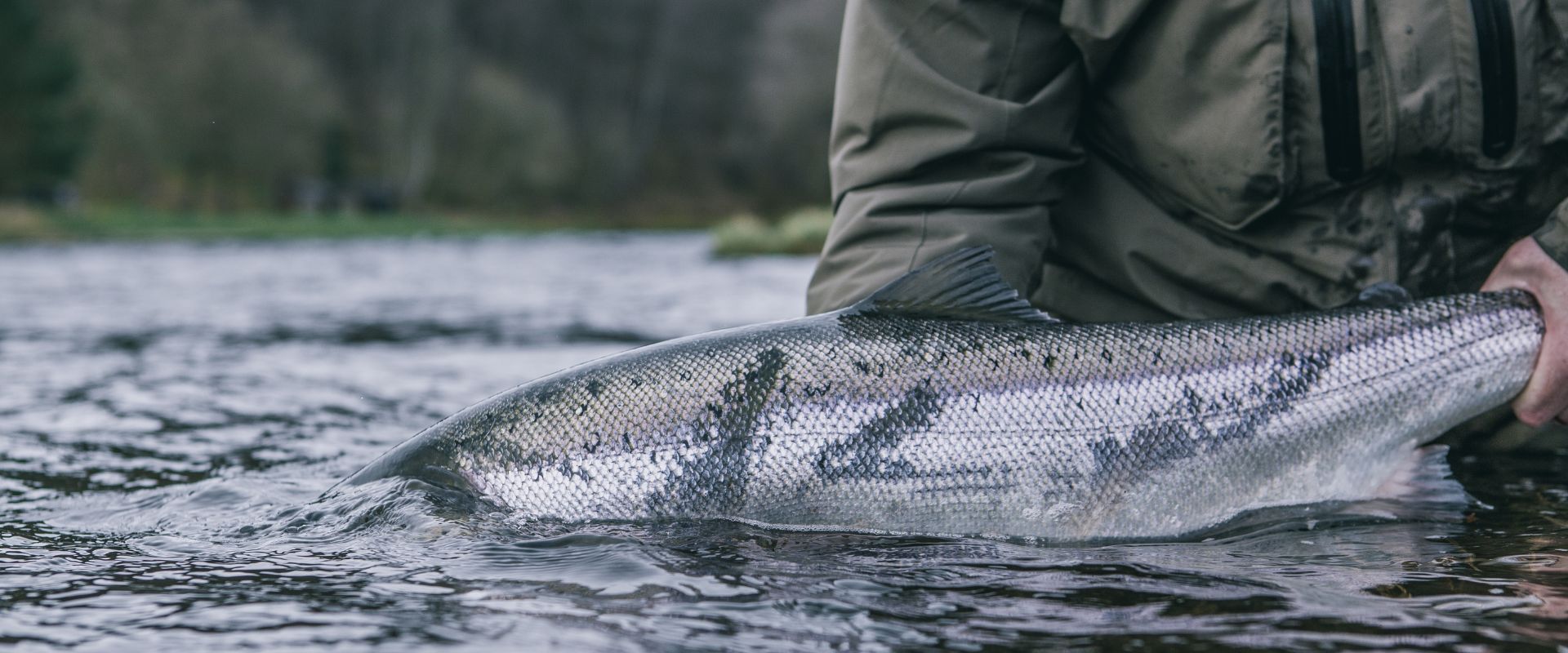 The Atlantic salmon is one of the world's most prized fighting fish; the combination of its power, speed, and weight on suitable tackle can provide one of angling's most exhilarating experiences.
Scotland provides many forms of salmon angling opportunities, from minor spate burns to large fast-flowing rivers with the opportunity to spin, or fly fish (care should be taken to check with rules and regulations on each river beat).
Scotland is renowned worldwide for its incredible Atlantic salmon fishing opportunities. From the breathtaking landscapes to the pristine rivers, it's no wonder anglers worldwide come to Scotland for unforgettable salmon fishing trips.
At Country Sport Scotland, our members aim to provide you with everything you need to have a successful experience when Atlantic salmon fishing in Scotland, covering everything from the best rivers and lodges to the top techniques and destinations.
Providers and agents offering this sport
Please choose from a provider below to enquire:
Best Rivers for Salmon Fishing in Scotland
Scotland is home to some of the finest rivers for Salmon fishing. Each river offers unique opportunities and challenges for anglers, providing unforgettable experiences for those seeking the ultimate catch. Here are the top four rivers for Atlantic salmon fishing in Scotland:
River Tay: The longest river in Scotland and a top destination for anglers. Its vast size and excellent salmon runs make it a popular choice for novice and experienced fishermen.
River Spey: Known for its fast-flowing waters and famous Spey casting technique, the River Spey offers some of Scotland's most exhilarating salmon fishing.
River Dee: Crystal-clear waters and stunning landscapes make the River Dee a picturesque choice for salmon fishing. The river boasts a healthy salmon population, with fish often caught weighing over 20 lbs.
River Tweed: As one of the most productive salmon rivers in the UK, the River Tweed offers excellent fishing opportunities in the stunning Scottish Borders.
Scottish Salmon Fishing Holidays and Lodges
When planning your Scottish salmon fishing holiday, finding the perfect lodge to complement your experience is essential. Salmon fishing lodges in Scotland range from luxurious estates to cosy cottages, ensuring there's something for everyone. Many lodges offer guided salmon fishing trips, helping you make the most of your time on the river. To provide you have the ultimate fishing experience, consider booking a stay at one of these top salmon fishing lodges in Scotland through our trusted sporting providers.
Fly Fishing for Salmon in Scotland: Techniques and Tips
Mastering the art of fly fishing for salmon in Scotland requires patience, skill, and knowledge of various techniques. Here are some popular methods and tips to help you reel in the catch of a lifetime:
Spey casting: This traditional Scottish casting technique is ideal for fishing in tight spaces and faster currents, like those found on the River Spey. Perfecting your Spey cast can significantly improve your chances of success.
Spring Salmon Flys: Early season Salmon, known as Springers, can be enticed with larger, brighter flies such as the Willie Gunn, Ally's Shrimp, and Cascade.
Salmon Flys: As the season progresses, smaller and more subtle flies become more effective. Popular choices include the Stoats Tail, Silver Stoats Tail, and Munro Killer.
Scotland Salmon Fishing Season
The Scotland salmon fishing season typically begins in February and runs through to the end of October. However, the best time for fishing varies depending on the river and local conditions. Spring and early summer usually offer the most consistent runs of Atlantic salmon, while autumn can provide excellent opportunities for larger end of season fish.
Guided Salmon Fishing in Scotland
For those new to Atlantic Salmon fishing or seeking local expertise, guided salmon fishing in Scotland is an excellent option. Professional guides offer invaluable insights into local conditions, fishing techniques, and the best locations for catching salmon. Many lodges and estates provide in-house guides, ensuring you have the best possible experience on your Scottish Salmon fishing holiday.
Atlantic Salmon Fishing Tips for Success in Scotland
Finally, to help you make the most of your Atlantic Salmon fishing trip to Scotland, consider these helpful tips:
Study the water: Observe the river, looking for signs of salmon activity, such as jumping or surface disturbances. Identifying their location can significantly improve your chances of success.
Choose the correct tackle: Selecting the appropriate fly, line, and leader for the conditions can make a huge difference in your success rate.
Adjust your approach: Be prepared to adapt your fishing techniques based on river conditions, time of day, and the behaviour of the fish.
Patience is vital: Atlantic salmon fishing can be challenging, so be patient and persistent.
Whether you're a seasoned angler or a novice, Atlantic salmon fishing in Scotland offers an unparalleled experience. Scotland is the perfect destination for your next Salmon fishing adventure, with stunning landscapes, pristine rivers, and a rich fishing heritage.
Conservation and Sustainability in Scottish Salmon Fishing
As you embark on your Atlantic salmon fishing adventure in Scotland, it's important to remember the value of conservation and sustainability. Scotland's rivers and fisheries are carefully managed to ensure the long-term health of salmon populations and the ecosystems they inhabit. By adhering to catch and release policies, respecting local regulations, and practising ethical fishing techniques, you can contribute to the ongoing success of this cherished Scottish tradition.
Preparing for Your Scottish Salmon Fishing Trip
To ensure a seamless and enjoyable experience, proper preparation is essential for your Scottish Salmon fishing trip. Here are some suggestions to help you get ready:
Research your destination: Familiarise yourself with the specific river, lodge, and local regulations before you set off. This will ensure you're well-prepared for the conditions and expectations of your chosen destination.
Pack the essentials: Bring the necessary gear, including appropriate clothing, waders, rods, reels, flies, and any other tackle you'll need. Pack a good-quality waterproof jacket and sturdy footwear for the unpredictable Scottish weather! Some sporting providers can supply the full equipment, but please enquire which each provider directly to arrange this.
Brush up on your technique: Practice your casting and fly-fishing skills before you arrive in Scotland. This will help you make the most of your time on the river and increase your chances of landing that prized salmon.
Embracing the Spirit of Scottish Country Sports
Atlantic salmon fishing is just one aspect of Scotland's diverse world of country sports. By participating in these traditional activities, you're enjoying a thrilling and fulfilling pastime and helping preserve Scotland's rich cultural heritage.