Guidance on bringing firearms to Scotland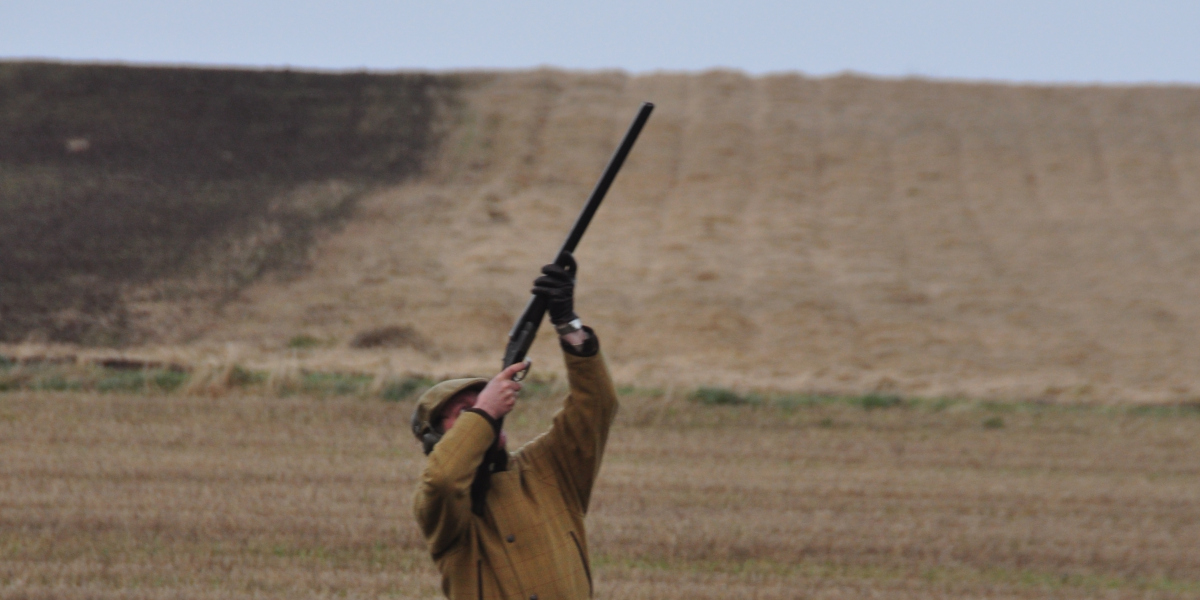 Bringing a firearm or shotgun to Scotland
Visitors to Scotland (and the rest of the UK) may only bring their firearm (rifle) or shotgun with them if they have in their possession a Visitor Firearm or Visitor Shotgun Permit. Such permits can be valid for up to 12 months but it is more common that these permits are limited to the length of the visit. The general rules and conditions which apply to the grant of a Visitor Firearm or Shotgun Permit are:
An application for a UK Visitor Permit must be made to the police by a sponsor, a person resident in that police area on behalf of you, the visitor. The sponsor is normally your host, sporting agent or a friend in Scotland. (Group applications are cheaper and may be made on behalf of up to 20 visitors provided they are all hunting on the same premises during the same period.)

Applications must be made at least 6 weeks before the planned visit.

Residents of EU Member States may be in possession of a European Firearms Pass. A photocopy or electronic scan of the EFP can be forwarded with the application for a UK permit.

An applicant for any visitor's permit must show good reason for possessing, purchasing or acquiring each firearm or shotgun.

For those not resident of an EU Member State applications should be accompanied by the original, or a copy of, any hunting or firearms licences held in his or her own country as well as evidence of an invitation to shoot in Scotland. These should be in English.

Entry into Scotland, or any other part of the UK, will not be allowed unless the hunter has a valid UK Permit. A European Firearms Pass on its own will not suffice.

Each Permit costs £20.00, though a group permit will cost no more that £100.00.
UK Firearms Permit
This is the permit for the possession (but not purchase) of a firearm such as a hunting rifle, as well as allowing the acquisition or purchase of ammunition. The firearm(s) must be listed on the Permit and the quantities of ammunition to be purchased, acquired and held must also be listed. The conditions of use of the rifle will also be listed and must be complied with. 
UK Shotgun Permit
This is the permit that allows the possession, purchase and acquisition of shotguns and ammunition. In the UK, this permit would authorise most shotguns, including side-by-side and over-and-under shotguns as well as semi-automatic shotguns with a magazine capacity of two or less. (Semi-automatic shotguns with a larger magazine capacity are rarely used for hunting in Scotland and would only be authorised by a UK Firearms permit.) No territorial restrictions are placed on a Shotgun Permit, meaning that the shotgun can be used on any hunting ground in Scotland as long as the visitor has permission to hunt there.
Shooting in Scotland – borrowing a shotgun or a firearm
It is possible for a hunter to come to Scotland and to hunt with a borrowed shotgun or a borrowed rifle. This avoids the need to apply for a UK Visitors Permit.
You may borrow a shotgun from the owner or occupier of private land and to use that shotgun "in the presence of" the owner or occupier. This is rather restrictive. You can also borrow a shotgun from another person as long as that person is authorised in writing to do so by the owner or occupier of the land. The person lending the shotgun must be present.  most hunters wishing to hunt with a shotgun should apply for a permit and bring their own shotgun. However, some sporting agents and estates may be able to arrange for visitors to borrow a shotgun.
For deer stalking with a rifle most estates will be able to arrange for visiting hunters to borrow what is known as the "estate rifle" and to use that rifle while in the presence of the owner or in the presence of his employee, such as the gamekeeper or professional stalker. This is a common occurrence but it is important to check with your sporting agent or your host that a suitable rifle is available. It is very important to note that this is not available to those under 17 years of age.
For further advice please contact the relevant Scottish Police Firearms Licensing Department as listed below:
FIREARMS & EXPLOSIVES LICENSING
LOCAL AUTHORITY AREA
For
ABERDEEN CITY
ABERDEENSHIRE
MORAY

Contact: ABERDEEN FIREARMS & EXPLOSIVES LICENSING
Queen Street
Aberdeen AB10 1ZA
TEL: 01224 306270
FAX: 01224 306013
northeastfirearmslicensing@scotland.pnn.police.uk
For
FORTH VALLEY (for those who reside in the Forth Valley Area)
Contact:  FORTH VALLEY FIREARMS & EXPLOSIVES LICENSING
Falkirk Police Station
West Bridge Street
Falkirk
FK1 5AP
TEL:  01324 676283
Firearmslicensingstirling@scotland.pnn.police.uk
For
ANGUS
DUNDEE CITY
PERTH & KINROSS

Contact: DUNDEE FIREARMS & EXPLOSIVES LICENSING
PO Box 59,  West Bell Street
Dundee DD1 9JU
TEL: 01382 596858
FAX: 01382 596859
Firearmslicensingdundee@scotland.pnn.police.uk
For
EDINBURGH (for those who reside in Edinburgh area with postcodes EH1-EH14 and EH27-EH30)

Contact: EDINBURGH FIREARMS & EXPLOSIVES LICENSING
Fettes Avenue
Edinburgh EH4 1RB
TEL: 0131 311 3297/8
FAX: 0131 311 3064
Firearmslicensingedinburgh@scotland.pnn.police.uk
For
ARGYLL AND BUTE
NORTH, EAST & SOUTH AYRSHIRE
EAST & WEST DUNBARTONSHIRE
GLASGOW CITY
INVERCLYDE
NORTH & SOUTH LANARKSHIRE
RENFREWSHIRE & EAST RENFREWSHIRE

Contact: GLASGOW FIREARMS & EXPLOSIVES LICENSING
Clyde Gateway, 2 French Street
Glasgow G40 4EH
TEL: 01786 895580
FAX: 01786 895599
Firearmslicensingglasgow@scotland.pnn.police.uk
For
EILEAN SIAR
HIGHLAND
ORKNEY ISLANDS
SHETLAND ISLANDS
Contact: INVERNESS  FIREARMS & EXPLOSIVES LICENSING
Old Perth Road
Inverness   IV2 3SY
TEL: 01463 720484
FAX: 01464 720827
Firearmslicensinginverness@scotland.pnn.police.uk
For
GLENROTHES (for those who reside in Fife, the Scottish Borders, East Lothian, West Lothian and Midlothian outwith postcodes EH27-EH30)  
Contact: GLENROTHES FIREARMS & EXPLOSIVES LICENSING
Detroit Road
Glenrothes   KY6 2RJ
TEL: 01592 418424
FAX: 01592 418444
Firearmslicensingglenrothes@scotland.pnn.police.uk
For  DUMFRIES & GALLOWAY
Contact:  DUMFRIES FIREARMS & EXPLOSIVES LICENSING
Cornwall Mount
Dumfries   DG1 1PZ
TEL: 01387 242263
FAX: 01382 596859