Atholl Estates
Near Blair Atholl, Perthshire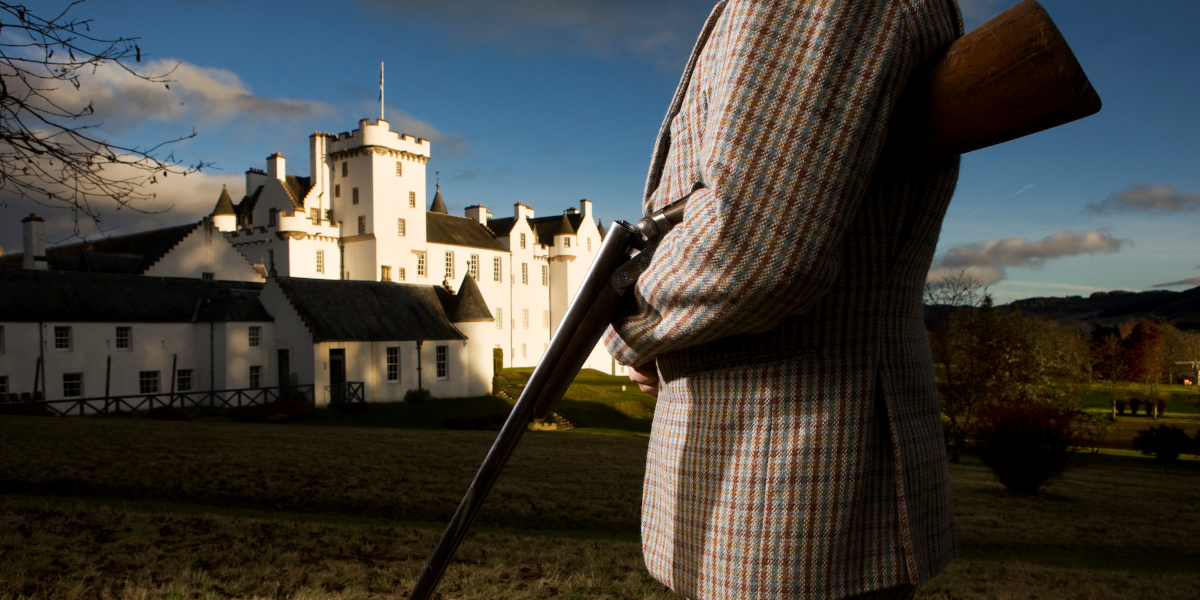 Information
Set in the spectacular landscape of Highland Perthshire, Atholl offers flexible sporting packages to suit your party. Our reputation rests on presenting excellent service and lasting memories of traditional Scottish field sports.
A range of lodge accommodation to suit all party sizes, matched with sporting opportunity all through the year. Grouse, stags and salmon during the autumn, hinds, fallow and pheasants during the winter and roe buck, trout and salmon in the spring.
You define what you want within the seasons and we informally but efficiently deliver it.

Sport Offered
Shooting – red grouse  Grouse with lodge weeks starting August to mid September
Deer stalking/hunting – red stags  Stags, traditionally taken off the hill with ponies, with lodge weeks from August to October
Deer stalking/hunting – red hinds  Hinds from October to February
Deer stalking/hunting – roe bucks  Roe bucks from April to June
Deer stalking/hunting – fallow bucks  Fallow bucks from September to March
Fishing – atlantic salmon  Salmon from March to October
Fishing – brown trout  Wild brown trout hill loch fishing from April to October
Most sport is let as weekly packages with self-catering lodge accommodation.
Atholl Estates offers accommodation to suit all tastes and budgets.
Blair Castle Caravan Park is a perfect base for touring or holiday, whether you choose to bring a tent, caravan or motorhome or stay in one of our luxury static caravans.
Our Woodland Lodges are fantastic home-from-homes for couples or families, nestled in a secluded woodland yet close to the amenities of the Caravan Park and Blair Atholl village.
Larger groups and those wanting seclusion in the countryside can explore one of our five stunning lodges. Sleeping between 4 and 20 guests, the lodges are in varying locations, from the convenience of Old Blair (within walking distance of Blair Atholl) to the remoteness of Forest Lodge, nestled in the hills of Glen Tilt some eight miles along a private track.
Whichever option you choose, you will enjoy a wonderful holiday on Atholl Estates.
Land Rover Safaris
Get off the beaten track and explore the beautiful scenery of Atholl Estates on a Land Rover Safari. Travel down remote tracks and scale the heights of this spectacular landscape covering distances only the very energetic could accomplish on foot.
Our breathtaking Land Rover Safaris take in some of the remote, dramatic and tranquil areas of the 145,000 acre estate from peaceful glen to lofty hillside. Each safari is a personal and special experience limited to a maximum of six people. Your Land Rover will be driven by one of our expert guides who live and work on the estate and who will share their detailed knowledge of the area which is rich in wildlife including red squirrels, birds of prey, mountain hares and red deer.
Scheduled safaris depart in the daytime and at dusk from April to the end of October and routes are tailored to the particular season of interest.
You may be attracted by the wild flowers of Glen Tilt in May, the lush greens of the summer glens, the golden tapestry of the autumn forest or the stirring sound of roaring stags in the October mist. Alternatively, simply drink in the views and savour the silence at the heart of a spectacular landscape. Pick up and drop off at Blair Castle Caravan Park's reception building in Blair Atholl village.
Tractor Tours
Explore the grounds of Blair Castle and the surrounding landscape on a 90 minute vintage tractor and trailer ride.
Travelling at a leisurely pace, you'll visit parts of the castle grounds many visitors never get to see as you pass through farmland, woodland and along the maze of estate tracks. The tour offers many opportunities to see the animals that live on the estate including red deer, Highland ponies and Highland cows. A real favourite with children, this is a fun way to discover more of the estate.
Tractor Tours run regularly from 1 July until 20 August
Monday, Tuesday, Thursday and Sunday from 10-11.30am
All tours depart from Blair Castle Caravan Park's reception building in Blair Atholl village with a second pick up on Blair Castle forecourt. Numbers are limited to 30 people per tour and advance booking is recommended (by phone on 01796 481263, 01796 481355 or 01796 481207 or online).
Walking
Visitors are welcome to explore Atholl Estates using the many miles of paths and tracks that cover the area. This is a working estate, so please bear in mind that you may be asked to keep to certain routes to avoid sensitive or dangerous operations such as forestry works or deer stalking.
There are two car parks provided by the Estate for use by walkers and others. The Cally Car Park is one mile north of Dunkeld, off the A924 Blairgowrie road. The Glen Tilt Car Park is one mile north of Blair Atholl on the road to Old Blair. This car park provides the closest parking to Glen Tilt and its hills.
Cycle in Scotland: Atholl Estates
If you're looking to cycle in Scotland, Atholl Estates affords excellent cycling opportunities for riders of all abilities. We welcome responsible cyclists on our estate roads and tracks, and encourage them to enjoy the outstanding natural beauty of the area.
Perthshire is one of the most popular regions to cycle in Scotland. Its mixture of gently rolling plains and rugged Highland tracks provides an exciting blend of terrain for cyclists, allowing you to pick a route that suits your skill level perfectly.
Whether your passion is for mountain biking or road riding, a visit to Atholl Estates is a must for anyone looking for exciting and engaging places to cycle in Scotland.