South Ayrshire Stalking
Near Girvan, Ayrshire & Arran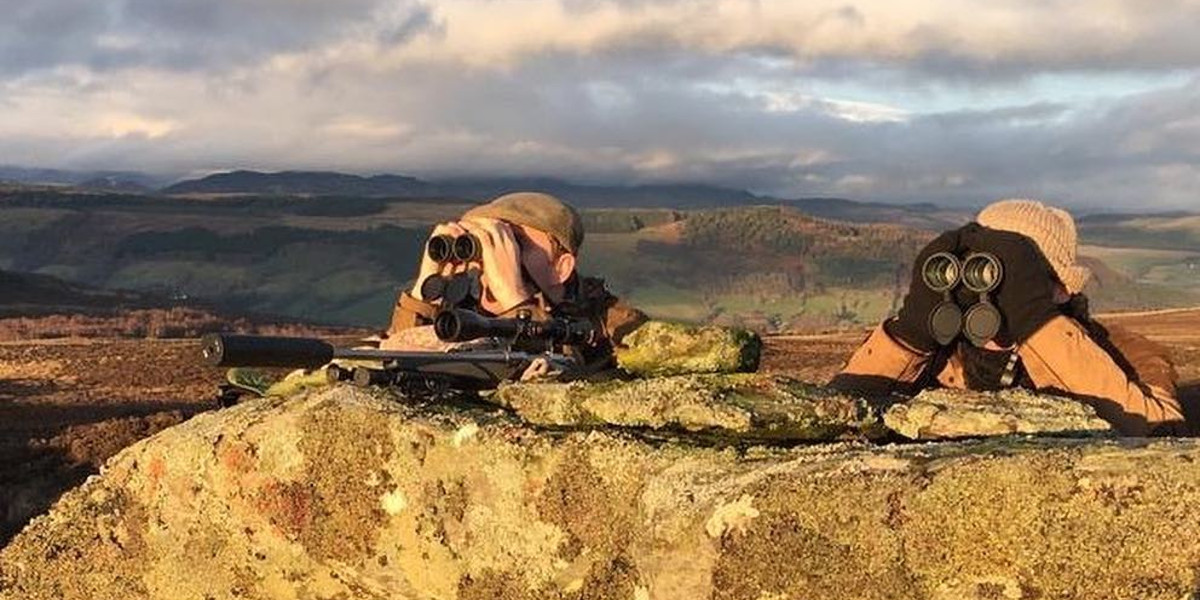 Information
Experience an iconic Scottish tradition: stalking wild deer amongst stunning scenery, with South Ayrshire Stalking.
Run by Chris Dalton, the UK's Professional Stalker of the Year 2019 and 2020, we pride ourselves on working carefully to keep nature in balance, offering you some of Scotland's finest and most ethical deer hunting.
Throughout our forestry plantations, moorlands and estates we have good populations of roe and sika deer. And if it is red deer you're after, it's worth noting that the woodland reds here in the south west of the country are the largest in the UK.
Accompanied stalking is available for all levels, from the experienced hunter to the complete novice. And if this is your first taste of deer stalking we have a specially designed package, teaching you the philosophy of deer management, firearms safety, and marksmanship training on the range.
Once you are comfortable with the rifle we get onto the stalk itself, taking you out into the wilds in the company of our passionate and experienced team.
After your successful stalk, we'll demonstrate gralloching, butchery and larder techniques, and venison can of course be purchased to take home.
To end your invigorating experience out in the wilds of Scotland, what could be better than a home-cooked meal at our family-run accommodation at Garryloop, nestled in the rolling hills of South Ayshire.
Come and join us, we look forward to welcoming you.
Sport Offered
Shooting – Pheasant
Shooting – Woodcock
Shooting – Duck and Geese
Shooting – Clay Pigeon
Deer Stalking/Hunting – Red Stags – Forest and open hill
Deer Stalking/Hunting – Red Hinds – Forest and open hill
Deer Stalking/Hunting – Roe Bucks
Deer Stalking/Hunting – Roe Does
Deer Stalking/Hunting – Sika Stags
Deer Stalking/Hunting – Sika Hinds
Fishing – Atlantic Salmon
Fishing – Sea Trout
Fishing – Brown Trout
Fishing – Rainbow Trout
Fishing – Coarse Angling
Fishing – Sea Angling
Other Field Sports – Falconry
Other Field Sports – Clay Pigeon Shooting
South Ayrshire Stalking offers comfortable, high quality self-catering and bed and breakfast accommodation at 'Garryloop', a superb country house developed from an old barn and cobbler's cottage.
The name Garryloop translates to 'Gearraidh Lub' – 'The Sheilding (summer hut for Shepherds) at the bend between arable and hill ground'.
We are situated in a beautiful rural location set in grounds of just under 6 acres with spectacular views over South Ayrshire to Ailsa Craig and the Isle of Arran.
The property is within easy access of the A77 allowing quick access to Ayr (19 miles) and Glasgow city centre (58 miles) which can be reached in a little over an hour's drive. There are excellent transport services in the area with a regular train service to Ayr, Glasgow and beyond from the railway station in Girvan (3 miles). Prestwick Airport is only 25 miles away.
We are able to offer a fully equipped cottage, centrally heated self catering annex, comprising ; double bedroom with en-suite, separate kitchen/dining area with 3/4 bed settee.
In the main house we offer two rooms, one double and one double/twin, each with private bathroom equipped to a high standard.
All the accommodation can be offered as bed and breakfast and, if required, dinner can be provided by prior arrangement.
'Introduction to Stalking' Course
This course is aimed at those completely new to deer stalking that want to experience and understand the philosophy and the techniques used to manage deer.
This is done on a one-to-one basis, although we can do this for up to 6 people, which may be husband and wife or a group of friends.
For this activity 2 to 3 days are ideal but we do any combination to suit. Arrival is normally early afternoon on day 1 so we can go through firearms safety and then spend some time on the range, making sure we have rifles zeroed. Estate rifles are available for guests to use. Normally we will then stalk for deer the next morning.
If we are successful, gralloching and larder techniques will be demonstrated and fully explained. Venison can be purchased to take home and butchered if required.
DSC Level 1
We provide training for the DSC Level 1; the time required depends upon a particular individual's stalking experience, however we find that if a candidate is prepared to do some self study, a day or half day of briefing is probably sufficient to successfully complete the DSC Level 1.
You can also simply arrive and just take the DSC Level 1 assessment if you have prepared yourself; we can combine this with some accompanied stalking if required.
DSC Level 2
Our stalker is an Accredited Witness for the DSC Level 2 and training can be given to achieve the required standard, along with witnessed outings for those who are ready to start completing the portfolio.
Firearms training
We are able to offer training in use of firearms and firearms safety and also help you to achieve those sought after tight groupings.
Butchery

We are able to show you how to skin and butcher deer for you own consumption. We have a fully equipped larder, cold room and meat preparation room, along with mincer and vacuum packer etc. We are able to butcher any deer you shoot for you to take away 'oven ready'.
Game Fishing Tuition
We can arrange group or individual fly fishing instruction with the UK's top qualified female instructor. Combined stalking and fishing packages can therefore be offered as can corporate events.
These days can be combined with stalking as a mixed package or for corporate entertaining.
Deer Dog Training/Advice

Contact us if you are interested in learning more or want specific advice about particular breeds or to bring a novice dog for training.
Sea Fishing Charters
We are able to arrange half or full day sea fishing trips from the local harbour to suit most tastes. From mackerel fishing off Ailsa Craig through to tope fishing for something a bit more challenging.
Walked up/rough shooting
Subject to the season we are able to provide good quality walked up rough shooting.
Trout and Salmon fishing
We manage a stretch of the river Girvan so guests staying with us are able to fish this healthy little river for resident wild brown trout. During the back end of the season the river also enjoys a decent salmon run.
Other Activities
Non-shooting guests will find plenty to occupy them. Ayrshire is renowned for its golf courses, walking, shopping, game fishing and beaches, all within easy reach.