South Uist Estate – Grogarry Lodge
Near Benbecula, The Outer Hebrides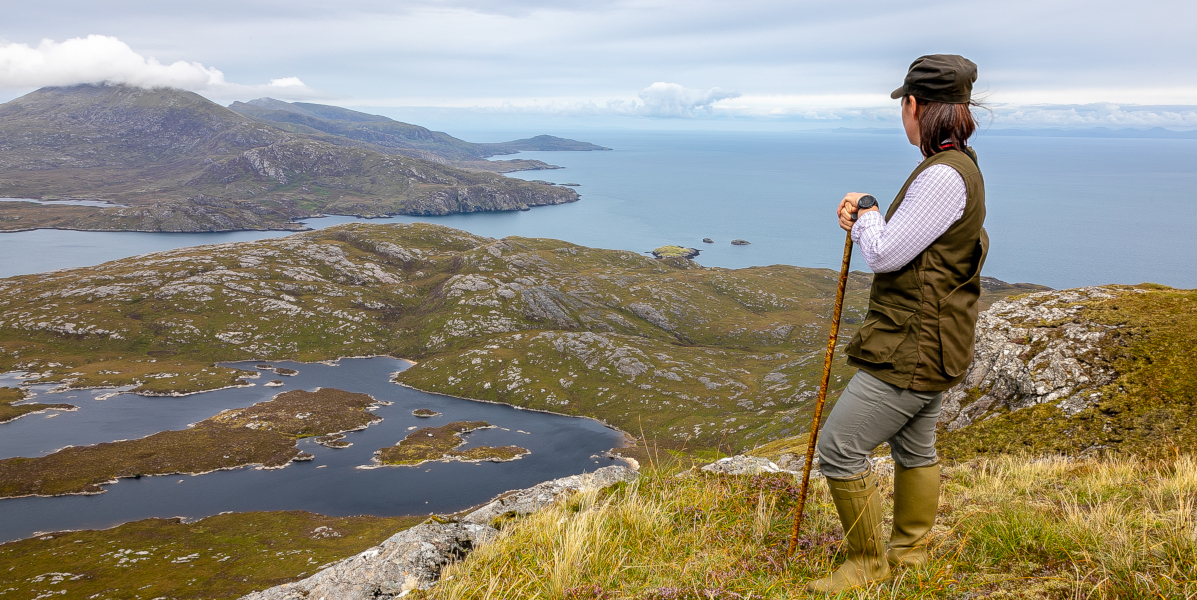 Information
In December 2006, the local community of 3,000 people bought the South Uist Estate from a syndicate of owners, covering approx 93,000 acres over the three Islands of Benbecula, Eriskay and South Uist.
South Uist Estate is the largest Community-owned area in Scotland. Grogarry Lodge is a sporting Lodge run by the Estate with an abundance of sport, from deer stalking, wildfowling, brown trout & salmon & sea trout fishing, and golf, all managed by the four full time keepers.
A fantastic opportunity to enjoy the stunning scenes of South Uist from the exclusive Hebridean retreat, Grogarry Lodge.  Grogarry is a fully serviced and catered 10-bedroom lodge, sleeping 10-19 persons in a mix of 3 doubles, 6 twins and 1 single room.
No stress about cooking, you can make the most of your time here. Hannah and her team will ensure you are well looked after and Bella will serve up fantastic meals using as much local produce as possible, including our own South Uist venison and an abundance of local seafood.
Fish some of the finest machair lochs, experience the exceptional sporting, play the famous Old Tom Morris Links course, Askernish Golf Course, get out hillwalking, birdwatching, or simply stay in by the fire and enjoy the wonderful views of the local wildlife and machair. 
No matter the time of year there is something to see and do – the opportunities are endless! It is a tranquil escape like no other. Take a tour of our website to see all the Lodge has to offer: www.grogarrylodge.com.
Sport Offered
Shooting – Woodcock – December and January
Shooting – Snipe – October and November
Shooting – Duck and Geese – October to February
Deer Stalking/Hunting – Red Stags – 1 July – 20 October
Deer Stalking/Hunting – Red Hinds – 21 October – 15 February
Fishing – Atlantic Salmon – 1 July – 31 October
Fishing – Sea Trout – 1 July – 31 October
Fishing – Brown Trout – 15 March – 30 September
Exclusive use lodge for up to 19 guests. Though the date of construction is not known, Grogarry Lodge was originally built by the Laird of the Long Island Estate and its age is indicated by the fact that it was 'modernised' over one hundred and twenty years ago.
Today, the Lodge is offered on an exclusive use basis, which is a fully serviced experience difficult to find in the modern world. The dedicated staff provide all meals, with much of the produce coming from the islands, and the picnic lunches come in hampers that may take two people to carry.
With ten bedrooms, offering accommodation in twin, double room or single rooms all named after our Estate's famous fly-fishing lochs for up to nineteen guests, the lodge is perfect for family groups and friends.
A rare home away from home, the lodge offers a unique country home experience. The well-stocked wine cellar provides the ideal complement to traditional Scottish cooking, served in the grand dining room, which restores strength at the end of a strenuous day outdoors.
Downstairs bedrooms and bathrooms and wide doorways also make the lodge accessible for those with mobility problems.
Play a round of golf on the infamous 'Old Tom Morris Course' – www.askernishgolfclub.com.