Augusti e-nyhetsbrev Sverige
Välkommen
Välkommen till SCSTG augusti 2017 e-nyhetsbrev. SCSTG har varit mycket upptagen under mäss-säsongen med att främja Skottland som ett land för jaktturism
destination på "Elmia Game Fair" i Jönköping i Sverige i maj, "GWCT Scottish Fair" på Scone & "The Game Fair" på Hatfield House under juli och Moy Highland Fieldsports Fair i början av augusti.
I början av oktober välkomnar vi en grupp europeiska journalister som kommer att bo i några av de bästa boenden i Skottland medan de njuter av några spektakulära skotska jakter.
Vänliga hälsningar
Andrew och Louise
Scottish Country Sports Tourism Group
Tel – 01350 723226
e-post – andrew.grainger@cstgscotland.com
2017/18 datum för din dagbok
21 oktober 2017: BASC Scottish Auction, The House of Bruar, av Blair Atholl
2 december 2017: BASC Scotland Ladies' Driven Day, Lochearnhead
13 januari 2018: BASC Scotland Young Shots Driven Day, Lochearnhead
29 juni – 1 juli 2018: GWCT Scottish Fair Scone Palace
27 – 29 juli 2018: The Game Fair, Ragley Hall, Warwickshire
SCSTG VisitScotland Growth Fund Marketing and Promotion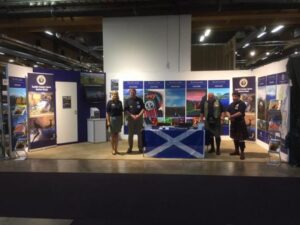 Som framgår av SCSTG-strategin för sociala medier, så har en kampanj riktad mot Frankrike, Tyskland och Sverige pågått under sommarmånaderna. Till en del finansierat av VisitScotland's Growth Fund, haav webbplatsbesök från målländerna har kunnat noteras.
Förutom att kunna presentera Skottland som ett land för jaktturism till många hundra besökare i vårt bås, så har deltagandet i svenska och stora brittiska viltmässor resulterat i över 200 nya abonnenter på e-nyhetsbrevet.
Pacific Pink Salmon – Rosa lax från Stilla havet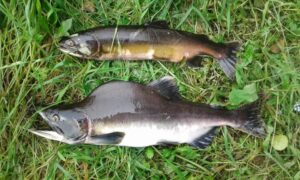 Ett antal Pacific Pink Salmon har fångats i skotska floder denna sommar. Fisheries Management Scotland har utfärdat några vägledningar för att hjälpa till att identifiera Pacific Pink Salmon och redogör för de åtgärder som ska vidtas om du skulle fånga en. För den mest aktuella informationen och rådgivningen, besök webbplatsen för Fisheries Management Scotland på www.fms.scot .
Ripa – tidiga rapporter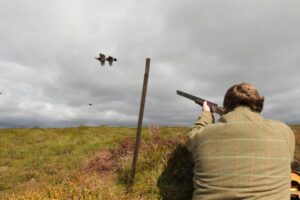 Gods på högländerna blir mer pessimistiska om eventuell jakt i vissa områden (tidigare fanns det hopp att sena kullar skulle komma fram senare under säsongen). Några rapporter finns om en stor andel gamla fåglar, vilket indikerar en dålig avelssäsong. Ett gods på Deeside avviker från trenden genom att ha haft bokade jaktdagar, men det kommer alltid att finnas undantag av lokala skäl. Det finns rapporter om rimliga byten i Perthshire och i Lammermuirs.
Marknadsläget – augusti 2017
Marknadsläget 2017 för egendomar har visat sig vara ganska robust trots all politisk osäkerhet. Skottland förblir ett av de få områden i Europa där stora delar vildmark kan förvärvas för jakt eller bevarande. Dessa möjligheter värderas högt särskilt av köpare från det kontinentala Europa, och egendomar fortsätter att omsättas enkelt både på den öppna marknaden och privat, om än i låga siffror årligen. Vanligtvis säljs mellan 15-20 egendomar varje år, varav några kan vara uteslutande för boendet. Det brukar alltid bara vara en eller kanske två egendomar med ripjakt som blir tillgängliga under ett visst år, och kanske bara 3 – 5 med kvalitetsjakt på röd hjort. Det genomsnittliga försäljningspriset och omfattningen år 2016 var cirka 3,4 miljoner pund och 4 500 tunnland.
Det är för tidigt att bilda sig en exakt bedömning om effekten av "Brexit", men så länge det inte finns någon ny finansiell krasch, förutser vi att nuvarande marknadsförhållanden sannolikt kommer att fortsätta under överskådlig framtid. Det låga värdet på pundet har verkligen varit en boost för utländska köpare. Betalningen av höga tilläggspremier, som var kännetecknande för marknaden före 2008, är nu mindre vanlig men fortfarande möjlig för exceptionella egendomar eller i fall där det finns en särskild köpare. Det är också så att egendomar vid kust och vatten tenderar att betinga en tilläggspremie. Försäljningar nyligen av egendomar vid kusten har uppnått premier över begärt pris på så mycket som 35 procent. År 2016 låg premierna över begärt pris i genomsnitt på 5 procent (alltifrån 20 procent under till 40 procent över begärt pris).
Marknaden för egendomar 2016 var mer aktiv än någonsin under föregående årtionde, med 24 sålda egendomar. Fler köpare, särskilt utlänningar, gick in i marknaden på grund av förbättrade valutakurser. Hittills i 2017 har det funnits mindre till salu på den öppna marknaden, men ett antal egendomar finns privat. Fortsatta farhågor gällande den skotska regeringens föreslagna landreformer, rykten om en andra folkomröstning om skotsk självständighet, och Brexit kan ha "tunnat" ut marknaden i viss utsträckning, men för varje förlorad köpare verkar det finnas andra som inte verkar vara så oroade av dessa faktorer.
Anna Henderson, Premium Property Buying Team, Galbraith
Direktnummer 0131 240 6988, mobil 07342 053318
E-post anna.henderson@galbraithgroup.com
Sporting Rates Update
De som har följt återinförandet av icke-inhemska jaktavgifter genom Land Reform (Scotland) Act 2016 är medvetna om att det inte har varit en smidig process och har varit fullt av osäkerhet. För att möta de predikterade kostnaderna har vissa jaktlag tagit beslutet att höja priserna för 2017. Andra ligger kvar för att se var deras intäkter hamnar. Det förväntas att flertalet avgifter kommer att utfärdas i slutet av september. Det finns sedan ett 6 månaders fönster från uppsägningstidpunkten för att överklaga värderingen. Bedömarna förväntar sig att en hög andel värderingar kommer överklagas, eftersom processen inte varit okomplicerad och bedömarna har haft lite tid och saknar bevis för att rättvist värdera värdet på jakträttigheterna. Det finns en pågående oro över effekterna av återintroduktionen och hur sektorn kommer att reagera.
Glen Prosens prisvinnande ponny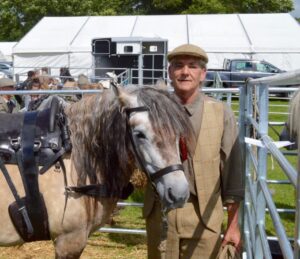 Grattis från alla på SCSTG till Glen Prosen Estate som tog hem 2017 Fred Taylor Memorial Trophy från GWCT Scottish Game Fair som hölls på Scone Palace i juli. Trofén för den bästa arbetande ponnyn vanns av ghillien Eric Starke tillsammans med det vackra femåriga stoet Mia. Eric och Mia arbetar båda på Glen Prosen Estate i Angus Glens, och följer traditionen hos skotska jaktegendomar att använda höglandsponnys för att transportera hem hjort och ripa. Den årliga tävlingen bidrar till att öka medvetenheten om traditionen med arbetande ponnys och belönar hållarna för deras hårda arbete med att presentera ponnys med en oerhört hög standard.
K. Dickson, styrelseledamot SCSTG
Woods Forestry and Sporting – Det skotska exemplet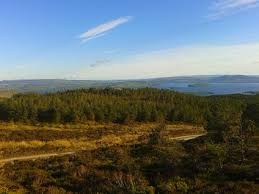 Mycket sällsynt är en dags jakt som inte påverkas av träd och skogar.
Att stå bland de fallna bladen i en skog i Perthshire i december och titta upp genom de nakna grenarna hos en mäktig ek i en klar, frodig blå himmel, och vänta på dagens första fasan som svänger över trädtopparna, eller kanske vänta tålmodigt i skymningen i juni på råbocken som står i en öppen granplantering med endast ljudet av vinden i träden som håller dig sällskap, eller kanske den bruna blixten när januari-morkullan stiger upp från en säng av ormbunkar i en silverbjörk i Argyll, eller ett stånd av höga, tunna och mogna pinjer i Aberdeenshire och bruset av en råmande råbock, som ekar bland träden, är alla sevärdheter och läten som många lyckliga jägare möter varje år i Skottland.
Men dessa träd och skogar har inte dykt upp genom ett trollslag, de är resultatet av generationer av upplysta godsägare och skogsvaktare som har skapat och hanterat dessa träd och skogar, inte bara för jakt, utan också för timmer, landskap och bevarande.
Organisationer som välgörenheten The Royal Scottish Forestry Society, vilken har funnits sedan 1854 och förmodligen är det äldsta engelsktalande skogsvårdande samfundet i världen, har medlemmar från hela spektret av människor som älskar och är involverade i träd och skog och som genom regelbundna fältturer, besök och diskussioner samt deras berömda journal Scottish Forestry, spelar en viktig roll för att hantera och skapa framtida skogar.
För mer information om att bli medlem eller söka mer information om samfundet, besök webbplatsen www.rsfs.org eller ring direktören på 0131 634 0043.
Simon MacGillivray
 Jakt i Skottland 2017/18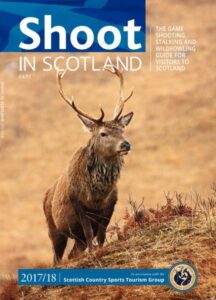 Elektronisk version finns tillgänglig på https://bit.ly/2slMAkK
Glöm inte att kolla in de senaste
JAKTERBJUDANDEN
på vår webbplats