Win an exhilarating day in pursuit of driven red grouse, the "King" of game birds.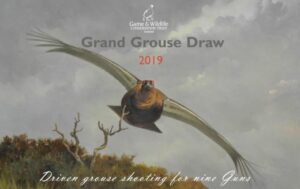 You and 8 friends will be treated to a day you will never forget thanks to the Roxburghe Estate.  With an anticipated bag of 100 brace in the glorious Lammermuir hills, the moors of Byrecleugh and Rawburn are home to outstanding wilflife, habitat and conservation management, recognised by the national Wildlife Estates Accreditation Scheme (WES),  benefiting birds such as curlew, lapwing and snipe and, in particular, black grouse.
To take place on the Roxburghe Estates in the Lammermuirs in the 2020 season, date by prior agreement. Tickets £40 per book of 20 – Closes midnight 11 December 2019; click here to enter and for further details. All proceeds help to support the vital conservation work of the GWCT.