Game Meat and Fish Recipes – Warm Salad of Nith Salmon, Friars Carse Country House Hotel, Auldgirth, Dumfries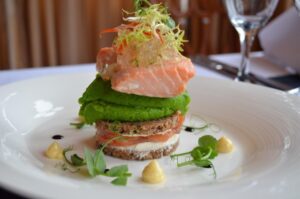 Warm Salad of Nith Salmon
Serves 4 'entrée'
Vanilla mayonnaise, pea purée, lemon and dill jelly, pea shoots and endive.
Peter S.Woods at Friars Carse Country House Hotel, Dumfries & Galloway
Ingredients:
4 x 125g Salmon fillets (preferably wild salmon in season)
300g frozen petits pois
1 teaspoon sea salt
1 teaspoon bicarbonate of soda
4 tablespoons of mayonnaise (homemade / quality shop bought)
½ vanilla pod (seeds only)
Juice of ¼ lemon
200ml water
2 teaspoons chopped fresh dill
Zest of one lemon
4 leaves of gelatine (soaked in cold water for 5 minutes)
4 slices of rye bread (cut into 8 rounds)
100g sliced smoked salmon
Full fat cream cheese
Curly endive, pea shoots and tomato petals to garnish
Method:
Salmon: place on an oiled baking tray, brush with olive oil and sprinkle with sea salt. Bake at 175°C for 8 minutes, remove and stand in a warm place for 10 minutes.
Peas: Boil in a little salted water with bicarbonate of soda, remove from heat and stand for 5 minutes. Stand and blend with stick blender.
Mayonnaise: Add seeds from ½ a vanilla pod and juice of ¼ lemon. (Best made day before)
Dill & Lemon jelly: Soak gelatine leaves in cold water for 5 minutes. Bring water to boil, take off heat, add lemon zest and chopped dill. squeeze excess water from gelatine leaves and stir into water mix. Pour into a shallow tray and chill overnight. Prior to serving turn out jelly and finely chop.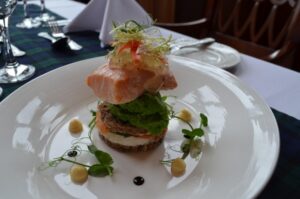 To Assemble:
Make little 'sandwiches' from rye bread rounds, smoked salmon and cream cheese.
Place in centre of plate, topped with a quenelle of pea purée & warm salmon fillets.
Put small dots of mayonnaise around the plate.
Garnish with pea shoots, curly endive & tomato petals.
Top with chopped dill jelly just before serving.
 'Bon Appetit!'