Culdearn House
Near Grantown-on-Spey, The Highlands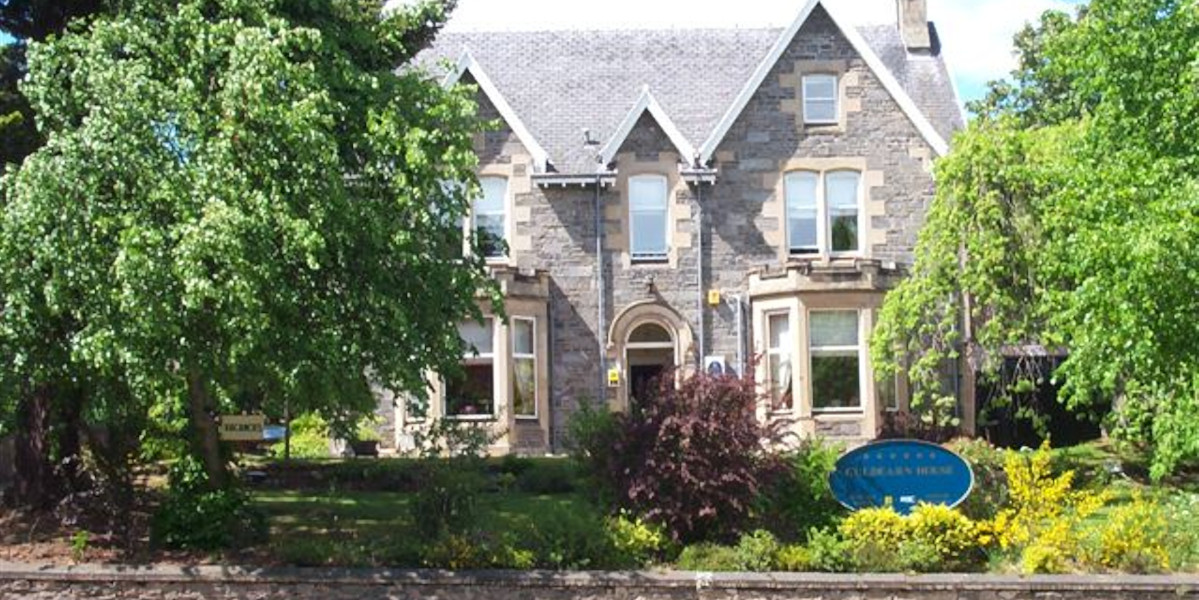 Information
Culdearn House is situated in the heart of Speyside in the Cairngorm National Park, surrounded by stunning scenery.
Ideally situated for salmon and sea trout fishing on the nearby River Spey, walking, wildlife watching, golf and country sports. Shoots can be arranged on a 1-1 basis or of a small party on nearby estate. Maximum number in house 12.
Award winning restaurant and food, fine wines, log fires and rare malts bring our shooting parties back year after year so why not give us a try.
Culdearn House, a small country house hotel in Grantown-on-Spey, Scotland was chosen for an Editor's Choice Award in the 2019 Good Hotel Guide.
The Good Hotel Guide is the leading independent guide to hotels in Great Britain and Ireland. It is written for the reader seeking impartial advice on finding a good place to stay. Hotels cannot buy their entry as they do in most rival guides. No money changes hands, and the editors and inspectors do not accept free hospitality on their anonymous visits to hotels.  Culdearn House received the award as one of the recommended fishing hotels.
Culdearn House lies within the heart of Speyside in the Cairngorm National Park. Owners Sonia and William Marshall said, "To be recognised in this manner is especially rewarding as it is based on independent feedback from our guests. When we received notice of it we were surprised and delighted!"
Culdearn House specialises in offering luxurious accommodation and fine dining to its discerning guests.
The River Spey, which has an international reputation as a classic salmon river and produces excellent catches of both salmon and sea-trout, is within walking distance of Culdearn.
Guests can obtain salmon fishing permits through the Strathspey Angling Assocation which has rights on both banks of a six mile stretch of the Spey.
Guests can fly-fish between February and late September and the hire of all fishing equipment is available from an excellent fishing shop in the village which the hotel uses and where the hire of an experienced ghillie can be arranged for private tuition. Drying facilities are offered at Culdearn House as well as freezer use.
As well as fishing, Culdearn is situated within a glorious area of magnificent scenery for walking, skiing, climbing, shooting, steam trains and golf. There are also 50 distilleries within a radius of 25 miles and the area is part of The Castle Trail.
Whisky tours can be arranged for nosing and tasting sessions and the owners have an in-depth knowledge of local whiskies. Many guests combine a longer trip with fishing and whisky.
Sonia Marshall says, "Whatever the reason for guests coming here, they will be assured of a warm Highland welcome. Most of our guests are repeat visitors and have been coming back to us over the past 12 years."
Culdearn House offers six superb luxury bedrooms in keeping with its four star hotel status. Each bedroom has recently been individually and elegantly designed, combining contemporary décor and fabrics with antique and modern furniture to create a stylish and comfortable ambience.
The non-smoking bedrooms are all en-suite, with newly fitted bathrooms/shower rooms and individually controlled heating and double-glazed windows, thus ensuring a high standard of comfort and tranquillity.
Ideally situated for touring in the Cairngorms and in the heart of Speyside whisky country, Culdearn is the perfect base for visiting the many attractions in the area:
•The famous Boat of Garten Ospreys and Capercaillies
•Fishing on the River Spey
•Playing golf on a range of magnificent courses
•Riding the steam train
•Visiting the many Speyside distilleries
•Exploring castles
•A trip on the funicular railway to the top of Cairngorm
•Skiing on Cairngorm
For the less energetic, peace and quiet and sheer relaxation together with comfort and hospitality make Culdearn the ideal place to stay during your holiday in the Scottish Highlands. Culdearn House is open ALL YEAR round and is a totally non-smoking establishment.