East Haugh House Hotel
Near Pitlochry, Perthshire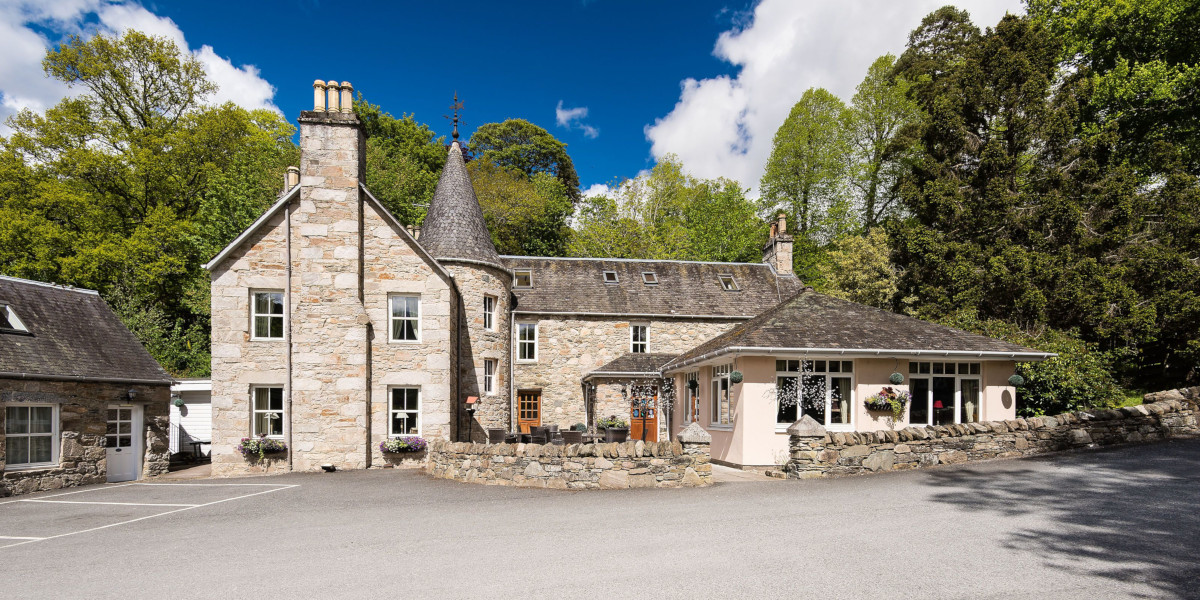 Information
Built originally as part of the Atholl Estate some 350 years ago, East Haugh House is a beautiful, turreted stone house situated off the old A9 road and set in 2 acres of gardens.
Owned and personally managed by Neil & Lesley McGown for over 30 years, you can be assured you are in safe and experienced hands when booking your next sporting break. Both keen sportsmen, they have access to a range of rivers and estates within picturesque highland Perthshire and create bespoke packages for hotel residents.
We can arrange a personalised sporting break to suit your needs and experience:
Stag, Hinds and Roe Buck – Rifle Hire – Permits & Licence – Services of experienced Stalkers – Taxidermy – Secure Rifle Storage – Drying Room
Driven or Walked Up days 80-400 Birds, Shotgun Hire, parties of 4-10 Guns, Hillside Lunches along with a comfy bed for your trusty four legged friend!
Salmon Fishing for the experienced or Novice Fisherman – Tackle Hire – Boat – Personal Ghillie AGPI Accredited.
The hotel offers 13 individually appointed bedrooms, all with en-suite bathrooms, soft fluffy towels and Neil's delicious home made Lavender Shortbread! We also have our Victorian Gate Lodge property which can sleep up to 4 guests, private parking, outside seating area – fully fitted kitchen – family bathroom – WIFI – just 2 minutes' walk from Reception. Reservations can be made on a Self Catering or Dinner, Bed & Breakfast basis.
Our extensive a la carte menu offers the diner an exciting array of local seasonal produce and combined with efficient but unobtrusive service in the Bar and Restaurant areas, the ideal end to a long day!
Ideally located to explore some other great finds of Perthshire – the famous House of Bruar, just 20 minutes away, purveyors of high quality country clothing and sporting supplies! Edradour, the smallest distillery in Scotland just 5 minutes. Pitlochry Festival Theatre, 5 minutes.
WINNER OF 'COUNTRY SPORTS HOTEL OF THE YEAR' AT THE 2017 SCOTTISH HOTEL AWARDS
AWARD WINNING SCOTTISH COUNTRY SPORTS HOTEL 2018
WINNER OF 'BEST HOTEL UNDER 50 R00MS' AT THE PRESTIGE HOTEL AWARDS 2019
WINNER OF 'COUNTRY SPORTS HOTEL OF THE YEAR – FISHING' AT THE SCOTTISH HOTEL AWARDS 2020
Sport Offered
Shooting – Red Grouse
Shooting – Brown Hare
Shooting – Rabbit
Shooting – Wood Pigeon
Shooting – Pheasant
Shooting – Partridge
Shooting – Woodcock
Shooting – Duck and Geese
Deer Stalking/Hunting – Red Stags
Deer Stalking/Hunting – Red Hinds
Deer Stalking/Hunting – Roe Bucks
Deer Stalking/Hunting – Roe Does
Deer Stalking/Hunting – Fallow Bucks
Deer Stalking/Hunting – Fallow Does
Fishing – Atlantic Salmon
Fishing – Brown Trout
There are 13 beautiful individually designed bedrooms at East Haugh House. The décor and furnishings enhance the overall atmosphere of homeliness and peace that pervades both the hotel and its attractive grounds.
Each room has been lovingly maintained to preserve its original character and splendour with infinite care for recreating authentic period details, and tastefully blending them with lovely carpets, furnishings, colour schemes and fabrics.
All rooms have their own appointed en suite bathroom and are often graced with seasonal displays of freshly cut local flowers. In the bathrooms are soft, fluffy towels and fleecy bath-robes, along with fine quality toiletries. Many have their own Jacuzzi baths, perfect for soaking in after a long day! Each room also has a TV and radio alarm clock.
We pride ourselves on our high standard of customer service and have won many awards to back this up; just have a look at our awards page to see.
Our rooms are a lovely escape from your busy world to a place of calm and comfort.
Golf
With over 40 lovely golf courses in Perthshire offering public access, there is a style and standard of course to suit everyone. Parkland or Heath, simple 9 hole to inspiring 18, beginner's level or championship, lady or gentleman, you'll find it in Perthshire, and notably around Pitlochry, which offers a choice of ten superb courses within easy reach to test even the most ardent golfer, including a very fine local course, a highland gem at Taymouth Castle, and a stunning international class test at Blairgowrie.
Mix excellent golf with some great fishing or shooting which we can arrange – or perhaps a distillery tour. And Carnoustie, St Andrews and Gleneagles are all around an hour's drive away.
The green fees here will also surprise you with their modesty. Most courses offer day and round tickets. Numerous great value concession tickets are available for use across a number of fine courses throughout Perthshire.
Pitlochry Golf
Pitlochry Golf is dedicated to becoming one of the finest inland golfing facilities in Scotland and we welcome everyone to be a part of our great golfing experience – from the fantastic course with sweeping views of the Tummel Valley to our state of the art clubhouse.
For more information please visit – www.pitlochrygolf.co.uk