Personal safety for hunters, stalkers and anglers
Scotland is a sporting destination enjoyed by men and women from all over the world.  Hunting and fishing in far flung, and often isolated, beautiful locations is part of the unique charm of the Scottish experience.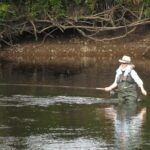 Scottish Country Sports participation requires preparation; picking your dates, finding your chosen location, and selecting a service provider to suit your needs.
I have frequently worked in remote locations with no mobile signal, and have often been the only female in shooting, stalking, and fishing groups. Before every trip, I research the locations and surrounding areas, ask people in my network for their experiences and comments, and, the most powerful of all, I invite personal recommendations. If you are a woman and looking to go fishing, deer stalking or shooting how can you ensure your personal safety is not at risk?
For many years, country sports were activities with male only participation, and women were often only spectators, however some ladies were encouraged to take part. In fishing, Georgina Ballantyne is still one of the most talked about ladies after catching the record-breaking 64 lb salmon on the River Tay, in 1922.  These days, more ladies are out on the rivers, stalking on the hill, and taking a peg on game days, and there has been a rise in ladies-only clay shooting days and regional and national clubs.
Last year, I went roe deer stalking and shot my first roe deer buck with Kenneth Larsen of Venator Pro Ltd. We met in the early hours, and headed into the depths of the Abercairny Estate, Perthshire. By 4.30am, I had successfully stalked and shot my first roe buck. After reading about my first stalking experience, several ladies contacted me to ask for tips regarding personal safety.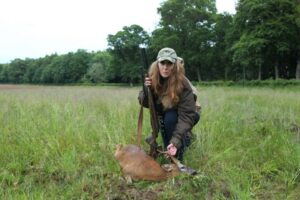 There are several points everyone, especially ladies, should consider exploring when booking shooting, fishing and deer stalking.
Recommendation: A personal endorsement is a powerful way of getting to know about a trusted service. I have known Kenneth for several years and have wholeheartedly recommended him to everyone with an interest in deer stalking.
Research: It is important for all ladies to do their research before they consider going deer stalking, shooting, or fishing, especially if it is a remote location.
Social Media: Most of us use social media, and it can be an ideal environment to ask for opinions, and to read any comments posted about, or connected to, country sports businesses. Previous customers post details about their experiences and leave reviewsl these are all invaluable for giving you a feel for customer satisfaction.
All companies should be insured, and their members of staff trained in First Aid, and equipped to deal with any mishaps. Websites and social media pages can assist you when gathering information but a telephone conversation or a skype call gives you a chance to ask questions and build a clear picture. Ask lots of questions, and you should feel you can always ask more at any time.
Tight lines and happy hunting!
Profile: Linda Mellor is one of Scotland's foremost shooting, fishing, and hunting female writers and photographers. With a lifetime of countryside experience, Linda's passion, enthusiasm and respect for the outdoors and hunting is shared in her writing and photography.
Twitter @LindaMellor Instagram @linda_mellor